First Day of our Holiday!
Getting excited, boarding Air Niugini's Wednesday afternoon flight to Madang.

The three of us (me,Mum and Pia) were met at the airport by Barbara, Pia's sister, and she took us to the Madang Resort Hotel to start our holiday.

The new, improved version of our holiday in Madang. Mum took one look at our dorm-style standard room, sucked in her breath, and waited bravely for at least half an hour before agreeing enthusiastically when I suggested that we could maybe check out what other rooms were available instead. We took one look at this room, did some quick conversations from kina to dollars in our head, subtracted the 50% AVI discount (gotta love a resort company that recognises volunteers!) and realised this little piece of heaven could be ours for the grand total of about $120 a night (total)! Not bad. Not bad at all.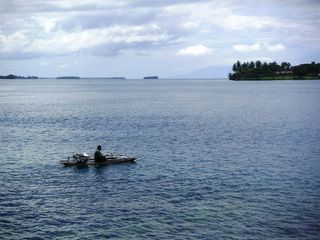 The view from our waterfront bungalow. I don't think I could ever get sick of this...