Overnight in Gabadi Village
Saturday was the big trip, my first time to a student's village to stay overnight. Mary had asked me to come to her place last year, but we'd had to cancel the visit at the last minute because of a death in her family, so this time I was determined to make it, no matter what!
We had planned for her dad to pick me up after midday, which was good because I was out late the night before at the dance (to be discussed at a later date). They arrived in the ute about 1.30, ready for the 1.5 hour journey down the Hiritano Highway to Gabadi village.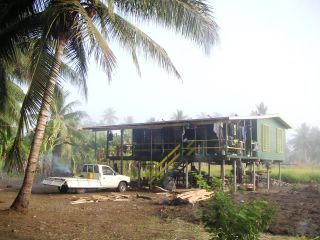 The house we stayed in (Mary's uncle's), and the truck we travelled in.Lunch on the verandah.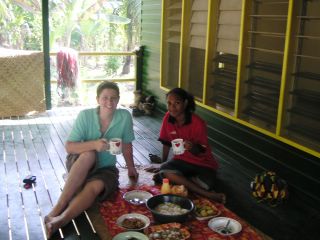 Note the mug, which says "I love Buai" - Mary's aunty told her mum it said "I love sister", and was embarrassed at first to let me drink out of it when she realised what it said, but I insisted, and she ended up giving me on as a souvenier of the visit! (Baui is betel nut, the nut they all chew which with lime and mustard turns their mouths red.)

The village, as seen from Mary's place.