To market, to market (again)
Met up with Pia and her nieces for another trek to the markets and Madang town. We wandered around, stopping at the bank, the post office, the butchery (which isn't actually a butchers shop but a supermarket!), the chemist, Brian Bell, Barbara's work and finally the market. At this point, mum was getting just a little market-ed out (it can be quite an intimidating place if you're not used to it, and our little exchanges with our Highlands basket-seller didn't do much for her opinion of the market place!) and I was in need of some peace and quiet too, so we headed back for the resort for (another) much-needed swim and read.
Later that afternoon we went for a walk around the resort, and we were standing on this bridge admiring the barramundi in the pond when we got caught in a sudden shower and had to run back through the rain to our room. We were DRENCHED!!!

Later on, we were having a well-deserved coffee and cake break at the Café when Jeremy (a fellow AVI, from my in-take) strolled up to the foyer, after having caught the PMV from Lae. We'd arranged ages ago to meet up in Madang for the Easter holidays, and it was fun to hang out for the next 3 days, and for mum to meet another volunteer mate.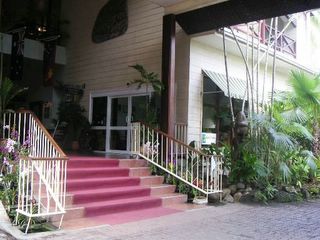 After we showed off the room and the pool, we got ready to go out for dinner that night with Pia and Barbara, and the rest of her family. We went to the Madang Club, and had a Chinese feast on the verandah overlooking the marina. It was a great night, and Sam (Barbara's husband) proved to be a really lovely bloke who kept baiting me all night about what we had in store for us the next day, when they'd take us to their village.