Off to Pia's Village
The big day!!! This is the day I'd been waiting for for months - and so had Pia. She arrived at our room at a civilised hour (Mum was now getting used to PNG time), ready to take us with Barbara, Sam and the kids (Lindsay, Velma, Naomi and Robert) in the ute to Aronis village to meet the rest of her family, and see where she grew up.
We all piled into the back of the ute, with mum in the front with Sam, and headed down the highway.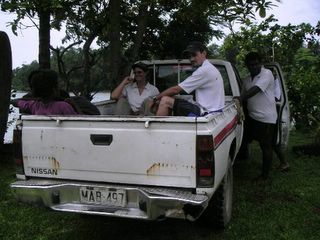 First stop was Barbara and Sam's place, at the cocoa and coconut plantation where Sam works. We got out to have a look around, and were blown away by how beautiful the location was. Their house looks straight over the water, with a little jetty and a beach and swimming area.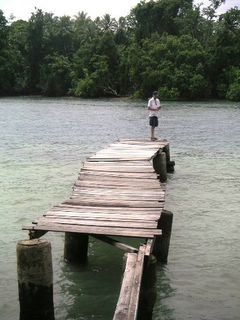 Sam was in the middle of building a bush house out of traditional materials as an extra area to their western-materials home.

Mum loved the puppy (of course), I went mad with my camera, and we all had some kulau to quench our thirst before clambering back into the truck.
On the way out, Sam stopped to bring us a cocoa seed pod, and we broke it open to see the seeds which he dries on site ready for processing.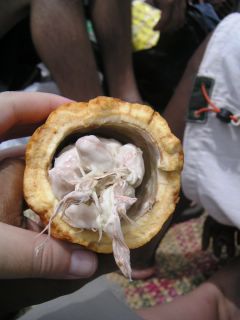 The trip from there to the village was about another 40 minutes or so, and once he turned off the highway I was very glad of the cushion I was sitting on! Barbara and Pia were giving lots of warnings about the bumpy track - but I still reckon the track at Tuberoserea (from my Easter weekend) was worse.

(picture from JCD)
Once we got to the village, we were met by Pia's two other sisters, Roselyn and Brunhilda, and a whole bunch of children and tambu (various brothers in law/uncles etc) as well as aunties, who were all very excited to meet not only Pia's white meri housemate, but her mum (and a white man - or patere as they tried to call him - meaning priest)as well! The village was beautiful. Pia describes it as a hamlet-style village, with lots of little clusters of bush houses all grouped together. There was even a chook house, complete with roosters and hens and chicks wandering all over the place. The flowers and grass were so neat and tidy, with little flower gardens everywhere. The vegetable gardens - the real gardens, not your flower beds that you call gardens in Australia, as Sam disparagingly said! - aren't in the village itself - the people have to walk about half an hour to work in them, as with most PNG villages.
We sat for a while in a shade area that they had made for a bunch of American lay-missionaries a while ago (I think that was what they were telling us), and were introduced to everyone and to another big batch of kulaus. Robert started to become more cheeky and less shy as he was now the "big man" kid who knew these white people, and started showing off, playing at being a tiger with Jeremy,

while Mum became inseparable from Brunhilda's 4 month old baby Ezron. She was so bewitched that Sam joked they'd better send him to Moresby to get a passport coz it looked like he'd be going back to Sydney!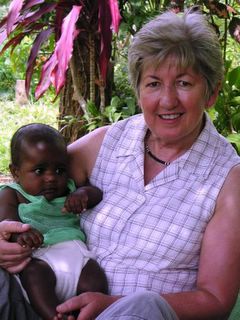 All the family had made a big lunch for us, so Mum had her second lot of traditional food: kaukau (sweet potato), taro, banana, ibica and pumpkin tips all cooked in coconut milk, and rice and chicken and fish, as well as a big tapioca cake. Delicious, but extremely filling - all that starch!
They were such lovely, generous people. As well as that feast of a lunch, Pia's sisters brought us bilums that Brunhilda and Roselyn had made for us - one each for mum, Jeremy and myself. Mine was a gorgeous Madang-style one (pink and purple and yellow, with long threads hanging from it); Mum's was green, blue and yellow, Morobe nylon string style; and Jeremy's was brown wool with bits of rainbow colour all over it. Lovely presents, and even more meaningful because we knew the people who had made them.
The rest of the afternoon passed quickly, with our full tummies seeing us just lazing in the shade until we realised we'd better hit the road again if we were to beat the rain, and to get back in time for our night's activities. It had been a fantastic day - it was so good to meet Pia's extended family, and to see her home - we all really appreciated the chance to meet each other, and for mum especially to see real village life.